East Coast Converter Making a Stand For Sustainability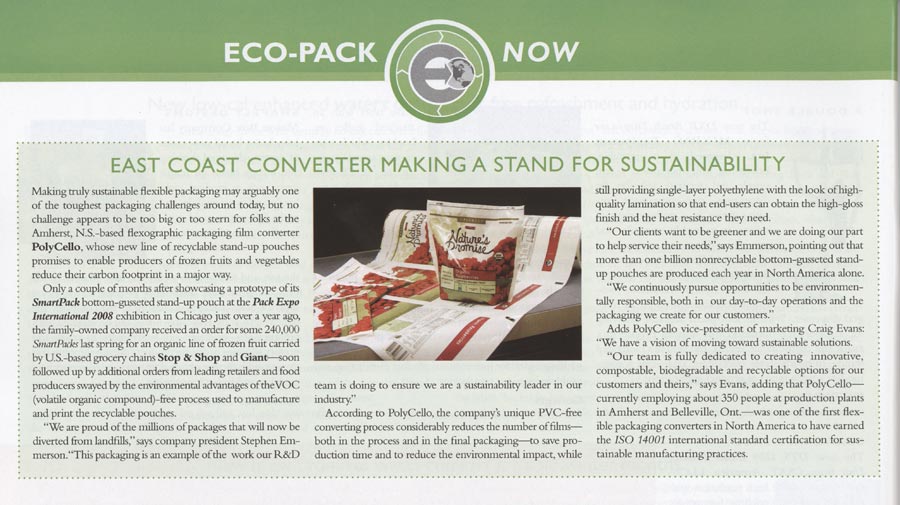 Text:
Making truly sustainable packaging may arguably be one of the toughest packaging challenges around today, but no challenge appears to be too big or too stern for folks at the Amherst, N.S.-based flexographic film packaging converter PolyCello, whose new line of recyclable stand-up pouches promises to enable producers of frozen fruits and vegetables reduce their carbon footprint in a major way.
Only a couple of months after showcasing a prototype of its SmartPack bottom-gusseted stand-up pouch at the Pack Expo International 2008 exhibition in Chicago just over a year ago, the family-owned company received an order for some 240,000 SmartPacks last spring for an organic line of frozen fruit carried by U.S.-based grocery chains Stop & Shop and Giant—soon followed up by additional orders by leading retailers and food producers swayed by the environmental advantages of the VOC (volatile organic compound)-free process used to manufacture and print the recyclable pouches.
"We are proud of the millions of packages that will now be diverted from landfills," says company president Stephen Emmerson. "This packaging is an example of the work our R&D team is doing to ensure we are a sustainability leader in our industry."
According to PolyCello, the company's unique PVC-free converting process considerably reduces the number of films—both in the process and in the final packaging—to save production time and to reduce the environmental impact, while still providing single-layer polyethylene with the look of high-quality lamination so that end-users can obtain the high-gloss finish and the heat resistance they need.
"Our clients want to be greener and we are doing our part to help service their needs," says Emmerson, pointing out that more than one billion nonrecyclable bottom-gusseted stand-up pouches are produced each year in North America alone. "We continuously pursue opportunities to be environmentally responsible, both in our day-to-day operations and the packaging we create for our customers."
Adds PolyCello vice-president of marketing Craig Evans, "We have a vision of moving toward sustainable solutions."
"Our team is fully dedicated to creating innovative, compostable, biodegradable, and recyclable options for our customers and theirs," says Evans, adding that PolyCello—currently employing about 350 people at production plants in Amherst and Belleville, Ont.—was one of the first flexible packaging converters in North America to have earned the ISO 14001 international certification for sustainable manufacturing practices.