Your project. One central team.
Project Central delivers packaging solutions tailored to you, from start to finish.
Many packaging organizations deliver a disjointed experience when handling your project. You often have to deal with several department representatives who are not fully informed on all aspects of your project or can adequately answer your important questions. This disorganized approach can lead to a lot of frustration on your part, and is a poor use of your time. For a project to be managed efficiently, it needs a dedicated and experienced leader to ensure everything is running smoothly. From R&D, Graphics, Pricing and Trial Production, your Emmerson Packaging Project Coordinator works with all departments, on your behalf, to ensure well-organized project management.
Project Central delivers packaging solutions tailored to you, from start to finish. Putting your brand into someone else's hands is a big decision. You want to know exactly who is working on your project, and you count on them to keep your order on track. Things change very quickly in the consumer packaged goods market, but consistency behind the scenes is key.
Emmerson Packaging's Project Central team sets your mind at ease and ensures your project meets every deadline. We'll assign a dedicated Project Coordinator to your internal service team, who will start by putting together a detailed timeline indicating every department and milestone associated with your project.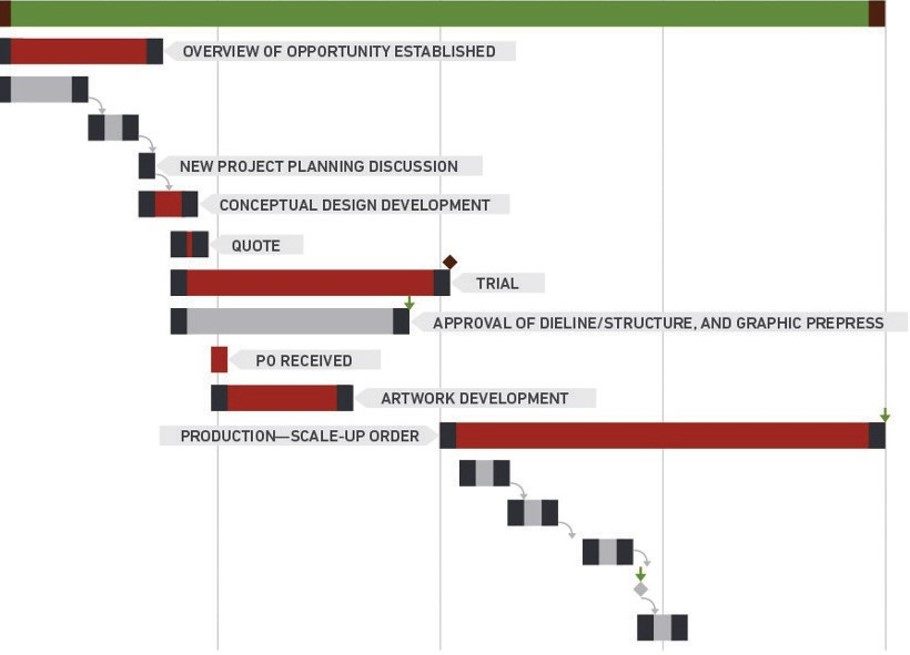 Not just anyone can become a Project Coordinator—they must have intimate knowledge of the flexible packaging industry, a strong background in project management, an unwavering dedication to superior customer service. We're very selective when it comes to assigning someone to work so closely with our clients.
By ensuring that artwork, purchase orders, raw material procurement, technical trials, pre-press, and production processes are all scheduled and completed on-time, we can deliver your project to market according to schedule and on budget, thanks to the personal attention of your Project Coordinator at Project Central.