Sustainability is more than a buzzword, and has become a core focus in buying habits with consumers demanding it from the entire supply chain of their product. A recent survey showed 53% of consumers are 'actively' looking for recycling or sustainability information on packaging and taking this into account when making a purchase.
With a limited recycling infrastructure across North America, we need to work towards a more sustainable life cycle approach. Part of this solution includes developing a circular economic model where plastic is reused and recycled much more extensively than today – and that's exactly what How2Recycle strives to do. How2Recycle is a solution for brands and retailers looking for sustainable options for their supply chain.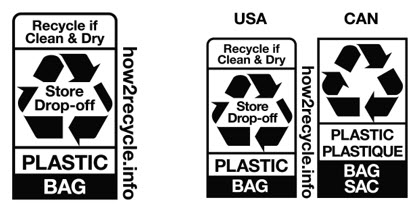 How2Recycle has a clear objective – to provide consistent and transparent on-package recycling information to consumers in North America. With dedicated Store drop-off locations in the US, they allow your consumers the opportunity to divert their plastic product from landfill where curb-side pick up is not available. As a How2Recycle member, we are able to print specific pre-approved labels on your package (subject to structure and applications) if you are a member too.
Being a How2Recycle member improves the reliability, completeness and transparency of recyclability claims. If you are not a member, but are interested in joining How2Recycle, you can look into membership options here.