New Product Launches
Launching new SKUs means you can't be putting out fires elsewhere. Learn how Emmerson Packaging helps manage your project from pre-launch to success.
Growth-focused companies are trying to hit increasingly aggressive launch dates for new products. One of the most common issues we encounter while talking to new customers is whether or not they can achieve their needed speed to market and maintain momentum while they grow.
When things are changing rapidly behind-the-scenes, you need to know exactly who is working on your project and how things are progressing. With so much to juggle, you can't be putting out fires in one area while trying to achieve growth in another.
At Emmerson Packaging, we've designed our entire workflow around getting your product in the right place at the right time. Over the past few years, we've invested over a million dollars in our dedicated Project Central team, a service that we provide free of additional charge to all of our customers.
Your dedicated Project Coordinator will conduct a thorough planning session for each new product launch, the outcome of which is a detailed timeline that includes every milestone associated with your project, and which department is responsible for it.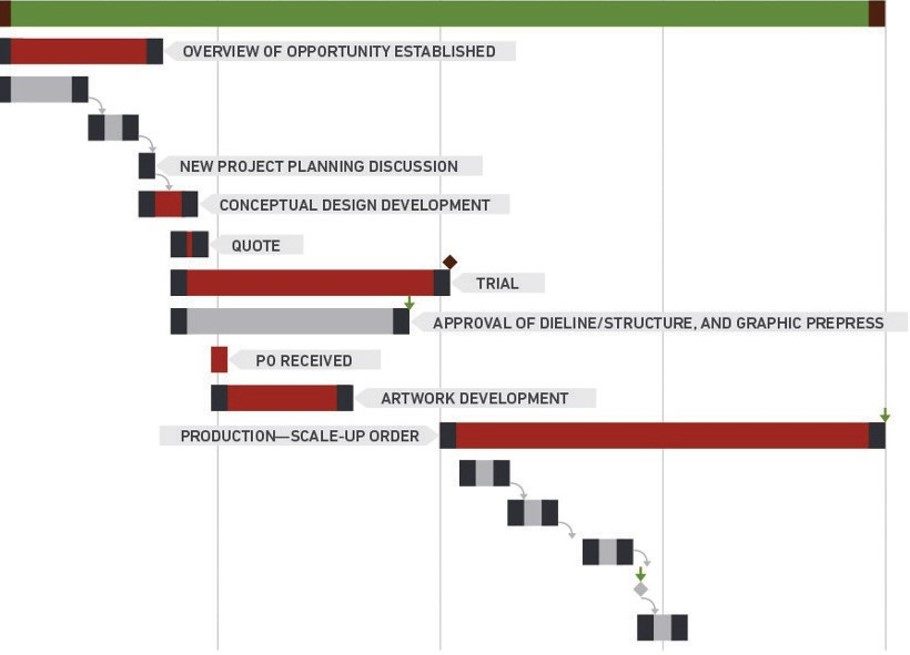 Any pre-press can be done in-house, including HD and expanded gamut. Our award-winning graphic technicians ensure optimum quality on our own flexographic presses, and carefully manage your brand's design elements with consistency and attention to detail.
Our R&D department can suggest sophisticated technical solutions for your unique product needs, and offer additional technical support to optimize your production lines.
We're here to ensure your new product launch is a success, regardless of its complexity and how many other projects your brand is juggling. We're organized and optimized for success, and completely dedicated to getting you the right products in the right place at the right time.