High tech, high impact, highly sustainable.
Your premium pet food brand could lead the pack with custom poly bags, high-tech sustainable packaging, and other flexible options tailored for you by Emmerson Packaging.
If your highest priorities are speed to market, shelf impact, and sturdy, innovative packaging solutions, we're well-positioned to partner with you for success. Emmerson Packaging offers award-winning graphics, advanced production capabilities, and a ready to ship guaranteed to meet your unique pet food packaging challenges.
Table Of Contents:
Pet Food Packaging On Time, Every Time
A Reliable Supply Chain Protects Your Brand's Reputation Against Aggressive Deadlines
Your reputation as a pet food brand depends on the speed and reliability of your supply chain. In today's market, our customers are feeling more and more pressure to hit aggressive launch dates—which means feeling more and more stress over avoiding the huge costs, financial and otherwise, of missing deadlines. Emmerson Packaging can help you stay ahead of the competition by consistently providing the pet owners who depend on you with on-time delivery of the premium pet food they deserve.
All packaging suppliers have customer service departments, but only Emmerson Packaging has Project Central. When a project is initiated, Project Central is brought in immediately to coordinate all of your logistics. They have a direct connection to all our internal departments, so if there's a challenge that arises, they can address it quickly and effectively. They also coordinate with any external vendors working on your project to keep everyone involved on time. Project Central is the key to delivering your packaging project on time, on spec, and on budget.
Our available Vendor Managed Inventory System ensures your packaging products are ready when you are, meaning your shelf space will never be empty. We're so confident in our ability to keep your project on track and on deadline, we offer a 100% on-time guarantee to our customers.
Together, we can help your company grow and make late shipments a thing of the past. Our Mission: Customer Success.
Pet Food Packaging Features
Convenience and Safety for Your Customers
Whatever your pet food packaging challenge may be, our Research & Development and Product Planning departments will work with you to create an entirely customized solution, with specialty inks, lamination layers, innovative bag construction, and whatever it takes to make your brand the most successful version of itself it can be.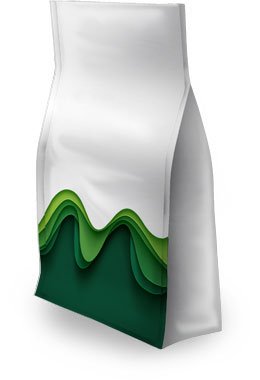 Some available features include:
Multiple closing features
Quad seal side gusset bags
Micro-perf technology
Wicketed bags
Side weld bags
Multiweb bags
PetPack-BDG™ technology
High Impact Designs for Pet Food Packaging
Stand Out On The Shelf With Award-Winning Graphics
Our prepress and printing teams have been recognized for printing excellence by the Flexographic Technical Association on 15 occasions. One such recognition—a prestigious Gold Award—was thanks to their work on high impact packaging for a Canadian pet food company.
We ensure your graphics are jaw-dropping from the first package to the last with our state-of-the-art HD printing technology. Our flexographic printing capabilities ensure 4000 DPI resolution (compared to 2400 DPI with traditional printing), and superior color control and ink lay-down versus traditional press technologies.
When you partner with Emmerson Packaging, your dedicated in-house team will include graphics experts who will:
Make your existing graphics and artwork flexographic-friendly
Manage your digital and conventional workflows, from development to plate making
Maintain and manage your brand's design elements with attention to detail and consistency
Our Product Innovation team will also work with you on innovative structures and features to craft the premium pet food packaging your brand deserves—and needs to win the shelf.

High Quality Packaging for Premium Brands
Give Your Customers the Premium Experience from Shelf to End-of-Life
Your brand has put in the work to develop the highest quality, most nutritious, freshest food for your customers' beloved pets. Don't hide your premium product behind sub-par packaging—convey its value with premium packaging to match.
Pet owners demand convenient packaging that is easy to carry, easy to open and close, and keeps food safe and fresh for the life of the product. Premium packaging helps them make the most of their carefully-considered investment in their pet.

Protect yourself from brand-damaging recalls with superior barrier control. Our flexible bags don't just look incredible on the shelf—they are designed to offer exceptional performance during packing and distribution.
Sustainable Pet Food Packaging
Environmentally Friendly Pet Food Packaging That Doesn't Sacrifice Quality, Safety, or Design
We've set lofty sustainability goals to help you reach yours. Our award-winning PetPack—BDG™ technology is shelf-stable, environmentally friendly, cost-effective, and appealing to eco-conscious pet owners. It is truly biodegradable, and will only begin to break down in an active landfill environment. Moist or wet pet foods will not trigger the biodegradation process.
If recyclability is important to your brand and your customers, Emmerson Packaging also offers a recyclable flexible bag and a biodegradable/recyclable flexible bag, with a full range of features and options. Click here to see our full line of sustainable and green packaging options.
You don't have to sacrifice print quality, barrier control, or overall package performance to give your customers the environmentally friendly options they demand. Finally, premium performance and premium sustainability are available in one package.
Our manufacturing facilities have long concentrated on sustainability initiatives. Since the year 2000, per foot shipped, Emmerson Packaging's facilities have:
Reduced our residual solid waste by 87%
Lowered our water usage more than 78%
Reduced electricity usage by 41%
Become a certified SGP Printer—the first ever in Canada.
Read more about pet food packaging trends, safety, design, quality, and sustainability on our blog: