Smart-LAM
Easily recyclable #2

Two different barrier options "moisture" or "moisture and oxygen"

Pleasing package stiffness

Runs well on packaging lines

Lamination-grade inks are protected by top layer of film

Approved for How2Recycle ® Store-Drop Off in the US
Enquire About This Product
Make the Smart, Sustainable Choice with Smart-LAM
Don't Be Left Behind in a Competitive Market. Make The Smart Choice with Smart-LAM.
Brand transparency is one of the biggest drivers behind consumer behavior today, and consumers are demanding it in every aspect of their purchase journey, including the packaging they buy. At Emmerson Packaging, we understand the term "clean label" is confusing, not only to consumers but to retailers alike. Make it easy for your customers to make a sustainable packaging choice.
Our award-winning umbrella of sustainable 'Smart' products, has been extended with Smart-LAM, a PE/PE lamination that's used in a wide variety of markets. Whether you are looking for treats and small pet food bags, or fruit, vegetables or grains, Smart-LAM is the solution for you. It has all the features you expect of a typical stand-up pouch, with added benefits. As an easily recyclable #2 where curbside recycling exists in Canada, the high-density polyethylene (HDPE) has a pleasing stiffness and runs well on packaging lines.
The structure of our Smart-LAM has been approved for Store Drop-off recycling with How2Recycle in the US (eligibility can change based on product application and attachments). This means, if you are a How2Recycle member we can print the following labels on your packaging for free.
Being a How2Recycle member improves the reliability, completeness and transparency of recyclability claims. By having this label on your product, consumers are able to take their package to designated store-drop off locations in the US where it will be collected and recycled – making sure your product doesn't end in landfill. If you are not a member, but are interested in joining How2Recycle, you can look into membership options here.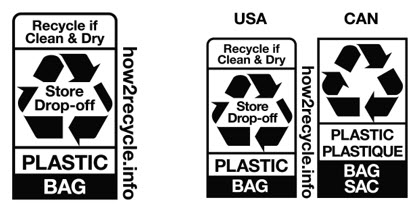 We make sure to use lamination grade inks to create eye-popping graphics that are protected by the top layer of the film, so you no longer have to worry about smudges or scratches to your graphics.
With a luxurious silk finish, we are also proud to offer two different barrier options—Moisture or Moisture and Oxygen— so you never have to worry about shelf life again.
Smart-LAM joins SmartPack™, our innovative award-winning process that gives the aesthetics of lamination with only one substrate. SmartPack™ allows us to take your standard pre-made pouch and convert it into a #2 recyclable format, giving your customers the sustainability, they are demanding. With a single layer of film, SmartPack™ is not only durable but scuff-resistant. With nearly a billion produced, it's fair to say SmartPack™ has diverted many packages from the landfill. 
Emmerson Packaging is proud to be among the 3.6% of North American printers who are SGP certified, and in 2011 became the first Canadian company to be awarded the SPG certification. We help our customers reach their sustainability goals as an environmentally responsible part of their supply chain, promoting full transparency and accountability. By partnering with an SGP certified printer, you can add the SGP certification to your packaging at no additional cost. With the SGP certification logo proudly displayed on your packaging, you're showing potential customers that you're committed to environmentally sustainable business practices.